The Next Generation In Comic Book Storage
If you've been looking for that middle piece of protection for your comic books, between bag & board and encapsulation, welcome to The ComicCloak. The solution that just clicks.
We collect comics, I mean REALLY collect them. And we are ready for something better...

The ComicCloak is a protective plastic comic book case that is:
∙ Slim
∙ Stackable
∙ Crystal clear on both sides
∙ Opens and closes to allow for exchanging of books
All this is included with our money back guarantee and free shipping on your first order.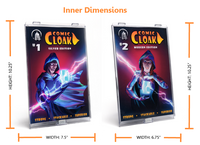 2 Different Sizes... Same Awesome Protection
In both Bronze/ Modern and Silver editions, the ComicCloak offers superior protection, storage and portability.